Description
Fashion Black Abaya – Gold Embroidered plus Hand Bag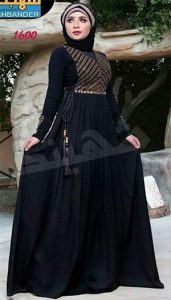 Fashion Black Abaya  is Gold embroidered Abaya in Black Color with Scarf and Handbag .It is very Fashion Black Abaya.
The Scarf has the same Embroidery  with an elegant suitable Handbag .
That Abaya has inside tie to control the width of the Abaya.  It will be your correct choice to wear modern Abaya .
Fashion Black Abaya
Category : Women's Clothing
Material : Silk
Color : Black
Sizes : L, XL, 2XL,3XL
content:
1- Gold Embroidered Abaya
2-Scarf or Hijab
3- Handbag with the same gold embroidery on Abaya and Scarf