Description
Nour Abaya-Black Butterfly Abaya – Embroidered
Nour Abaya-Black Butterfly Abaya – Embroidered | Very Beautiful Black Abaya with fashionable Embroidery on Bust and Sleeves.
No matter what the weather or occasion, black and Gold designs tend to never go out of style. Together, the colors are a great combination and provide a fashionable, modern, and stylish outlook. Fabolous Design  With Full sleeve eye-catching Design.
This Abaya is fabulous for its appearance. An extra-ordinary gold trim embroidery and matching white ribbon on the edge of the Abaya sleeve make it stand out from the thousands of other designs.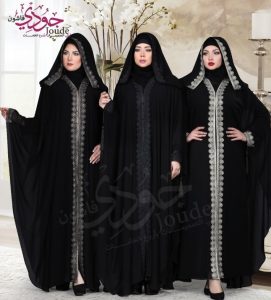 Two matching columns of thin gold piping run down the centerpiece of the Abaya, completing the chic design. The patterns on the Abaya look unique especially with the pleating of extra lace on the sleeve arm which completes its trendy outlook. So, lastly, can say – it's for you!
Category: Women's Clothing
Material: Chiffon with underlining
Color: Black (embroidered)
Size: Free size
Egyptian Abaya as an Oriental Culture